About My Favorite Ice Cream Shoppe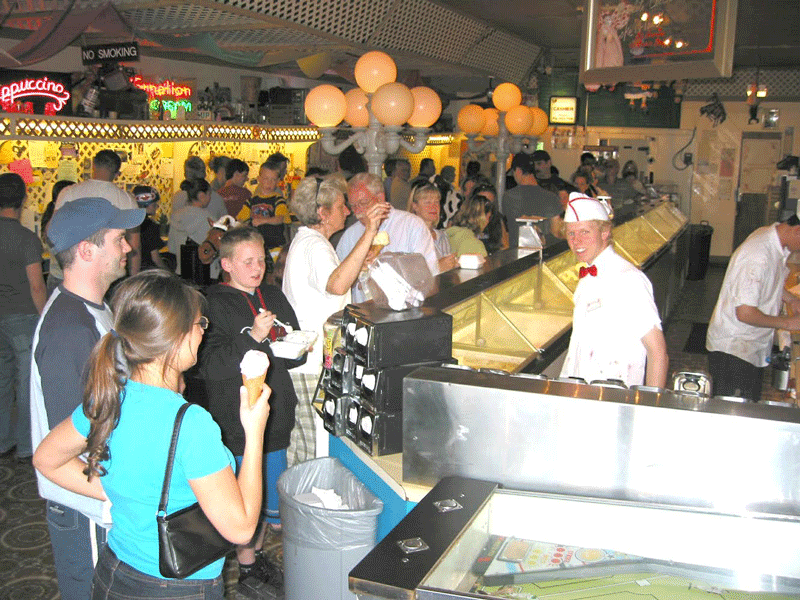 My Favorite Ice Cream Shoppe is another classic spot to line up for a cone with the kids. With 72 flavors of ice cream, and its old-fashioned ice cream memorabilia, this south Marda Loop scoop shoppe oozes nostalgia. Play the piano in the shop for 10 minutes, and get a free ice cream.
By Your Roving Reporter
About 200 miles north of glacier National Park and the Montana border lies the city of Calgary in the Canadian Province of Alberta. Banff National Park and Lake Louise in the Beautiful Canadian Rockies Are nearby neighbors. This lovely bustling city is the home of 900,000 multi-ethnic people and has several attractions, including the Calgary Tower, rising 643 feet above the sidewalks, an outstanding zoo, the world Class Glenbow Museum, the Calgary Olympic Park (Calgary hosted the 1988 Winter Olympic Games), and many more beautiful areas. Calgary also hosts its famous week-long Western Wingding, tended by thousands who relive the days of chuck wagons and lassos.
Tucked away in this setting on the southwest side of Calgary, in a quiet residential area, is the business which its friendly, affable and savvy owner, Joseph Yoon, has operated since its taking over in 2002. He focused on quality products, value, service and an experience that went beyond a simple scoop of ice cream. Lineups soon snaked out the door, so Joseph planted colourful benches outside to handle the over flow and brought in performers. His care and handling of the customers flows into the community as well; he participates in many charities and fund raising for schools, and many other nonprofit organizations. He has worked in the retail business since he finished the MBA course in the USA, 1994.
Joseph's biggest seling day is Sunday. Followed by Saturday. Mondays and Fridays are about equal. January and February are the lowest sales months, July, followed by August, the highest months.
The interior of Joseph's building is a gem. Church pews line the walls for seating. A large piano is the focal point in the serving/waiting area! (Piano players get free ice cream-10 minute minimum.) The walls and shelves contain outstanding ice cream memorabilia – signs, fixtures, pictures, artifacts, etc. Old fashioned street lamps help illuminate the area.
To clarify for the few Calgarians who have never been to his Altadore ice cream mecca, that's My Favorite Ice Cream Shoppe. My Favorite Ice Cream Shoppe is a landmark. Not being located on a man thoroughfare, it is a destination location and a Calgary tradition since it has been setting up My Favorite Ice Cream Shoppe in a sleepy strip mall in 1981. It is the largest ice cream retail shop in Western Canada and one of the biggest in the country for years, and the store is a destination for many who like a little entertainment with their ice cream.
My Favorite Ice Cream Shoppe presents over 80 flavor choices of hard ice cream. Cookies'N Cream ice cream is the number one flavor choice with his customer base and Rolo Rolo is number two. Dutch Chocolate is number three and way ahead of Chocolate Chip Cookie Dough. Mint Chocolate Chip is 5th according to Joseph.
Now he has another location at Wentworth in South West Calgary.
Close